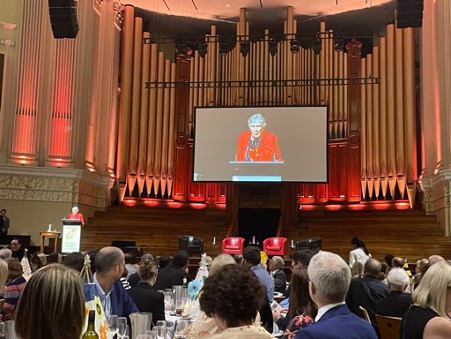 Maureen Stevenson received the 2023 Community Philanthropist of the Year Award at the Queensland Philanthropy Awards (QCF) held at Brisbane Town Hall.
In addition to supporting many Queensland charities for over 30 years, Maureen has also been supporting Wesley Research Institute as a generous and long term loyal donor for 16 years.
Maureen says humbly that she just wants to help as many as she can with her giving because she can. Her social calendar is filled with invitations to fundraising events and lunches.
Maureen's passion for improving the lives of those in our community is evident in the way that she has given selflessly to so many causes – evidenced by the wonderful letters of support written to endorse her nomination for the 2023 Community Philanthropist of the Year Award.
Her donations have not only contributed to enabling research into a range of diseases and medical conditions but have also helped to fund a range of initiatives that have the potential to help change lives.
We congratulate Maureen on this very deserving recognition of her generous philanthropic support!